After opening the season with a 13-6 win over Mimico, the team travelled to Kitchener last night looking to go 2-0 to start the season. The only other Beaches teams that started 2-0 were back in 2004 and 2006, both of which made the playoffs those years.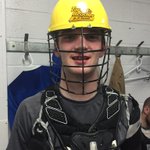 Like the game in Mimico, the team had a slow start going down 3-0 around the half way point of the first period. But it was Beaches Anthony Joaquim who stepped up in his first game back from university. Within 3 minutes, the Beaches were within one goal thanks to a pair by Joaquim. A lone goal by Cory Burr sent the Beach Boys to the locker room tied 3-3 after the first period.
It was a rather uneventful second period for scoring as Aaron Forster and call-up Alec Johnson from Nepean Jr. B each scored. However the period was filled with monstrous hits from both teams. The Beaches led 5-4 heading into the final frame.
In the third period the Beaches Boys took over scoring 3 unanswered goals from John St. John, Marcus Minichiello and Justin Huggins to give their team an 8-4 lead and they held on to take the game 8-5.
The Beaches defense and transition were rock solid keeping the Braves to only 5 goals and adding 6 goals on transition. Goalie Michael Lalani had another great game for his second win of the 2015 season and making an incredible save to end the second period. Beaches rookie Jack Kelly was Beaches player of the game as he was a driving force at grabbing countless offensive loose balls to keep the team pressing.
The Beach Boys now look to an even more challenging opponent when they take on the Whitby Warriors at our Home Opener on May 22 @ 8pm.
Beaches Jr. A 3 Stars
1) Jack Kelly – A loose ball machine in this win.
2) Michael Lalani – 5.00 gaa and 2nd win of 2o15.
3) Anthony Joaquim – 2 goals and an assist in his first game of the season.